The night that Dad died there was a snake at the front door when the people from the funeral home arrived. That incident reminded me of other snake events. And then when I've been out walking around I've noticed all the spider webs strung around everywhere. It always happens in the fall here and some of the webs and spiders are just magnificent. Well, not so much if you become entwined in them.

When I was a little kid I was rather fascinated by any kind of creature. I remember once I was really little and I ran into the house and asked for a hammer. I was given one and immediately returned to my outside world followed by my mom and granny who were undoubtedly curious about my purpose. There was this huge tarantula and I was following it. I would hit at it with the hammer and it would jump and then I would run after it. They rescued the poor tarantula and it escaped off into the pasture. Probably the Oklahoma Brown which are not poisonous and are very helpful.

Dad had built a barn that among other things sheltered the car. One day when I was little I remember mom screaming and running out of the barn. There was this big old chicken snake on the hood of the car and she had not noticed it until she climbed in the car. My pop killed it with his big hoe. We had chickens then. The rooster especially hated me and would run after me every time I would be out there. I would have gladly fed the rooster to the chicken snake.

Another memorable snake event occurred at a family reunion at our house in the early 80's. A group was sitting outside in the breezeway area between the house and the garage. I was sitting on the house side and across from me several people were sitting right up against the Arkansas Ledge Stone wall. Suddenly I noticed a little movement and behind those people and actually on the wall was this really big snake, well over 6' long. It blended in with that stone so well that it was just unnoticeable unless you really looked to see it. I told everyone to move away from the wall slowly. Dad saw it about the same time I did and went to get his rake while I was moving people away. He got it off the wall with his rake and took it down to the fence and released it into the pasture. By that point in his life Dad no longer killed anything.

Then there was the time I came to live with Mom and Dad in 1998. It was after Mom was out of the hospital so probably in 1999 sometime. I heard Dad hollering for me and I ran out to his office as quick as I could. Forgot my shoes I was in such a hurry. A really large snake had come in the back door. He (or she and I don't know or care) was about 4' long I think. It is a little hard to measure a snake from across the room and with the snake all coiled up and hissing at you. But it was really thick around and so muscular.

It had made a beeline for some cabinets over against the wall and Dad had intercepted it with his broom and was holding it so it couldn't get away. But it was fighting and he was losing. So the first thing I did was close the door into the house so the thing couldn't get inside - hopefully. Dad was trying to get the snake out the door with a broom handle. I jumped up on the boot bench. Dad said "come over here and help me" so I got my own broom and wished I had something on my feet other than socks.

Snakes are surprisingly strong is all I can tell you. The two of us managed to get the thing back out the door where it coiled up and hissed and struck at us. We decided we'd leave it alone and maybe it would leave on its own. And sure enough it was gone a little later.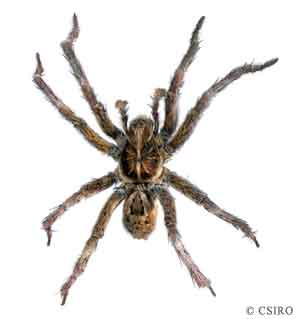 We've always called these spiders that build these giant webs in the trees and around the eaves tiger spiders. I think they are actually wolf spiders but really I don't know. They are kind of scary and if you get tangled up in the webs it is awful. But they are beautiful creatures. This doesn't really look exactly like the ones around here. Maybe if I buy my new camera today I can take some photos of the real ones. But I found this one on the Internet and it resembles them.
In all my life here I've only seen one Black Widow spider. And that little red hour glass they talk about to identify them is really unique and interesting and pretty obvious.
We have lots of Brown Recluse spiders here. Definitely a good idea to leave those alone!